The English version is under review and may contain some errors
Four years ago, when I quit smoking, after an addiction that had lasted for 21 years, I particularly suffered detachment from my habit. Not wanting to use any substitute for cigarettes, I thought that setting myself a difficult and medium-term goal, the achievement of which kept my head busy, could have diverted my mind from the recurring rethinking of my intentions. Until then, my lifestyle had always been quite sedentary, so I set the goal of getting back into shape and losing weight through sport. I started first with the race and then soon had to abandon it due to the appearance of two hernias in my back that stopped me in a bed for a month. It was like this that four years ago I entered the tank with crutches for the first time.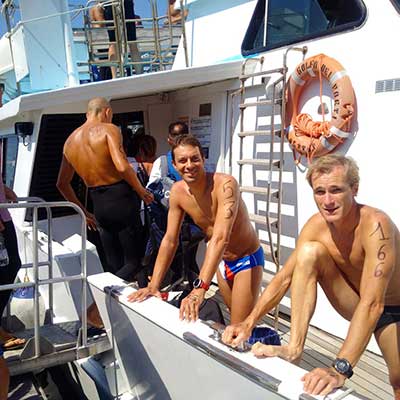 In those days I didn't even like swimming, but I didn't have many other possibilities to alleviate the constant pain in my back and in all honesty in the water I felt really at ease. In a very short time I realized that this sport was very compatible with my physical condition and I discovered that physical, mental and sporting improvements were surprisingly fast, meaningful and very motivating.
But my attention was focused on the lane next to mine, where I saw a group of triathletes swimming like rockets. I was amazed to see them being able to swim so long without having to stop to rest or catch their breath, while my autonomy was a couple of pools or a little more. Watching them carefully and imitating them, I gradually improved my swimming technique until I found that they were no longer so "unattainable". I then asked them if I could queue during training. That's how I met Alessandro, my current coach, thanks to whom I made that qualitative leap that led me to participate in my first cross-country races: the Byron Cup in 2015, the OceanMan Lago d'Orta 14 km
in 2016 and then again, a second time, in 2017. What happened in my head to let me get closer to bottom swimming I still haven't understood. I like being in the company, but basically I've always been a loner. The open water swimming makes me feel a special peace; when I swim free in the sea I feel disarmed, but at ease. The long swims allow me to wander with the mind and to take the time necessary to reorganize the ideas.
I took so much taste in swimming that, in early 2016, an idea made its way into my head: swimming from Corsica to Sardinia , alone and wearing only headphones and goggles . In those days it was a feat far beyond my possibilities, but now in my head the little light had come on to swim across that stretch of the sea that I had seen as a child, so stormy and violent. So I started to prepare for long distances and to find out about the permits needed to make this crossing.
Unfortunately I had to note that it would not have been an easy task because swimming in the open sea is forbidden and any violation would have penal consequences. The necessary procedure in these cases included the request for authorization to the Harbor Master's Office of La Maddalena, the Captaincy of Bonifacio, the Region of Sardinia and the Municipality of Santa Teresa di Gallura. In short, a bureaucratic nightmare and, given the heavy traffic that crosses the Bocche di Bonifacio every day (cargo ships, ferries, cruise ships, oil tankers), my request would have been similar to that of someone asking permission to cross on foot. 'highway.
Initially I thought of doing the business at the end of summer 2016, but I realized that I probably wasn't quite ready yet. In truth I had some chance of success, but I was really at the limit and the risk of having to leave before touching the Sardinian coast was too high. If I ever got permission for my crossing it would have been stupid to waste it. So, a little reluctantly, I decided to postpone everything for the following year.

I would have used my second OceanMan Lake Orta participation as a test to see how far I was with the preparation. The 14 kilometers that you have to swim to complete this competition had made me reach the finish line of the previous year at the end of my strength. This year, however, I had arrived in much better conditions. I still had three months to refine my workouts, request authorizations and organize logistics for handling emergencies. All this required a commitment and costs that went far beyond my imagination.
Furthermore, training so intensely without the certainty of having the possibility to realize my efforts was very hard. In the end, the much-needed approvals arrived just ten days before the date I had set and which coincided with the statistically more favorable period for water temperature, currents, maritime traffic and, last but not least, my work.
The last week before departure was tremendous. After a preparation that began two years earlier, in view of this undertaking, I began to realize that I was about to get to the point and the tension gradually increased to the point of taking my sleep away at night. And so Thursday, September 14, I board in Livorno, destination Sardinia!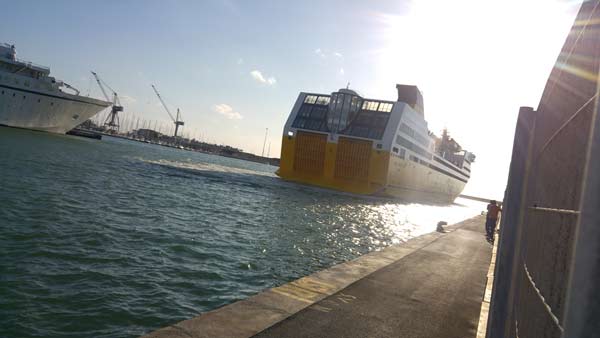 The budget available to my company is extremely tight and the costs will be substantial: travel, hotel, ferry, skipper, support boat and a rescuer that the harbor master's office forced me to have in tow. So I have to settle for a seat on the deck of the ship and so my journey begins. The tension of the last two days has turned into terror. I knew that I would live the last few hours before the crossing in this way and, in all honesty, I feel a kind of pleasure in feeling like this and I firmly believe that I need to live the moment in this way in order to be able to turn these emotions into determination for the hardest moments waiting for me.
I adapt easily to sleep as it happens, so I spend the night sleeping on the mat on the floor. The lack of a bed does not bother me at all, on the contrary, the hard floor is good for my back. It's very early Friday morning, it's not yet dawn. I decide to pull myself up from the makeshift bed and wait for the sun to rise on the outside deck of the ferry. Physically I may begin to feel a little better than yesterday, even though the tension is still making itself felt. They are like waves that come and go and moments of quiet alternate with moments of pure terror.
Finally disembarking in Olbia and with the car I head to Santa Teresa di Gallura to meet with Giovanni, the skipper who will follow me throughout the crossing. Together with him we organize a couple of possible routes. We will decide the final one this evening, based on how the wind and currents will change in the next few hours.
A wave of 80 cm is expected tomorrow morning, rising to 1.5 meters the rest of the morning. These are quite challenging conditions, especially if you have to swim over such a long distance. In the coming days, however, the sea will get worse and therefore I have to decide whether to face a worse sea tomorrow than I was hoping to find in this period, or else to postpone it until the next weekend, with the risk of finding myself in the same conditions, or even worse, and finding myself with a week of extra work to be disposed of when he returns home. I've already had other times to swim with 80 cm waves. It's a more difficult and tiring swim, but I find it funny: I could do it. It will mean that I will have to conquer every meter of sea crossed. In the last 12 months
I swam for 830 km, I'm ready. I will leave tomorrow.
We also contact a local diving to know the water temperature, which turns out to be 23 degrees. It is not particularly cold, but not too hot if you consider the much more comfortable 29 degrees of a pool. My intention to leave at 6 am, an hour before dawn, begins to falter. I liked the idea of ​​swimming in the dark, but that would mean suffering the cold for an extra hour. If you are lucky enough to swim with the clear sky the sun warms your back just enough to make you suffer less the temperature of the sea, but tomorrow the hazy sky is expected and then the sun will start to warm up only around 10 am. better to start at 7, exactly at dawn: very picturesque!

We therefore agree to hear from you again this evening and so I spend the rest of the morning on the beach with my parents, who arrived here in Sardinia a day before me. Although the sea here is decidedly calm, this being a beach in a sheltered place, I decide to try the sea to get an idea of ​​the thermal conditions that I will have to face tomorrow. The water is freschina and with the sun I shouldn't have any particular problems; if instead there will be veiled or bad weather the risk of hypothermia could become concrete. There will be at least four hours of swimming, probably five. We'll see ... I spend the afternoon alone in Capo Testa , which is right on the Bocche di Bonifacio. The last time I was here I was six and I want to see for myself how far Corsica is. In the distance I see the beautiful cliffs of Bonifacio, which from here seem very small. An oil tanker is going through right now; she looks even smaller. The waves that break on the rocks of the lighthouse of Capo Testa raise splashes that reach a height of about ten meters. The temperament of the sea is just as I remembered it. Tomorrow there will be a lot of water to swim, it will be a good undertaking!

In the evening I go to Santa Teresa di Gallura. I am in a family-run hotel, the Hotel Mùita di Mari, which is a stone's throw from the port, an ideal location for me since tomorrow morning I will be picked up by the rubber boat right there. I make the pleasant knowledge of the owners and the informal atmosphere, together with the pleasant welcome they reserve for me, takes me away from my worries. The kitchen is sublime and I eat willingly, although the tension is still felt and my stomach closes. After defining the last details with the skipper I go to bed early, hoping to sleep more than I did in the last few days.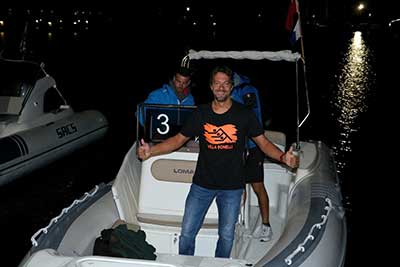 Saturday 16 September 2017. I wake up at 4:30, half an hour before the alarm set, after a night spent with a light but peaceful sleep. In the room I make a high-calorie breakfast and walk to the harbor. It is still dark, the streets are deserted and there is an unreal silence . Arrival at the port on time with the skipper and the rescuer who will follow me on the boat that will escort me throughout the crossing. I greet my parents who have come to encourage me before departure and I get on the speedboat. I am well dressed and covered, with the intent to stay as warm as I can, for as long as I can. I take shelter from the wind at the bottom of the boat near the engine, since it is the point of the boat that is less subject to waves.
As soon as they leave the long inlet of the harbor the waves begin to be a certain height and the motorboat leaps madly all the way. Sometimes the jumps are so high that I completely get off the seat flying in the air, even though mine is the happiest position. I would like to take some pictures and some shots but with these waves it's impossible, I should have four hands. Patience, I live the moment and memorize it in my mind. Halfway, I begin to see the first flashes on the horizon and the sky changes from a dark blue to the pleasant tones of dawn. The boat stops a few hundred meters from the coast of Corsica, from the beach of Capo Pertusato, right at the beginning of the beautiful limestone cliff of Bonifacio. It's 6:45 am, I have just a quarter of an hour to prepare. I undress, staying only in costume and spread as much sunscreen as I can, until it turns white on my shoulders, in my face and on my neck. Then I put some Vaseline under my armpits; if I didn't do it I would find myself completely irritated in less than two hours. It is a mistake I have made in the past and I no longer fall for it. A few moments before 7 am I dive into the water and swim to the beach from which I will leave. As per agreements with the harbor master, the skipper communicates via radio that I am about to start.
And now. The crossing begins.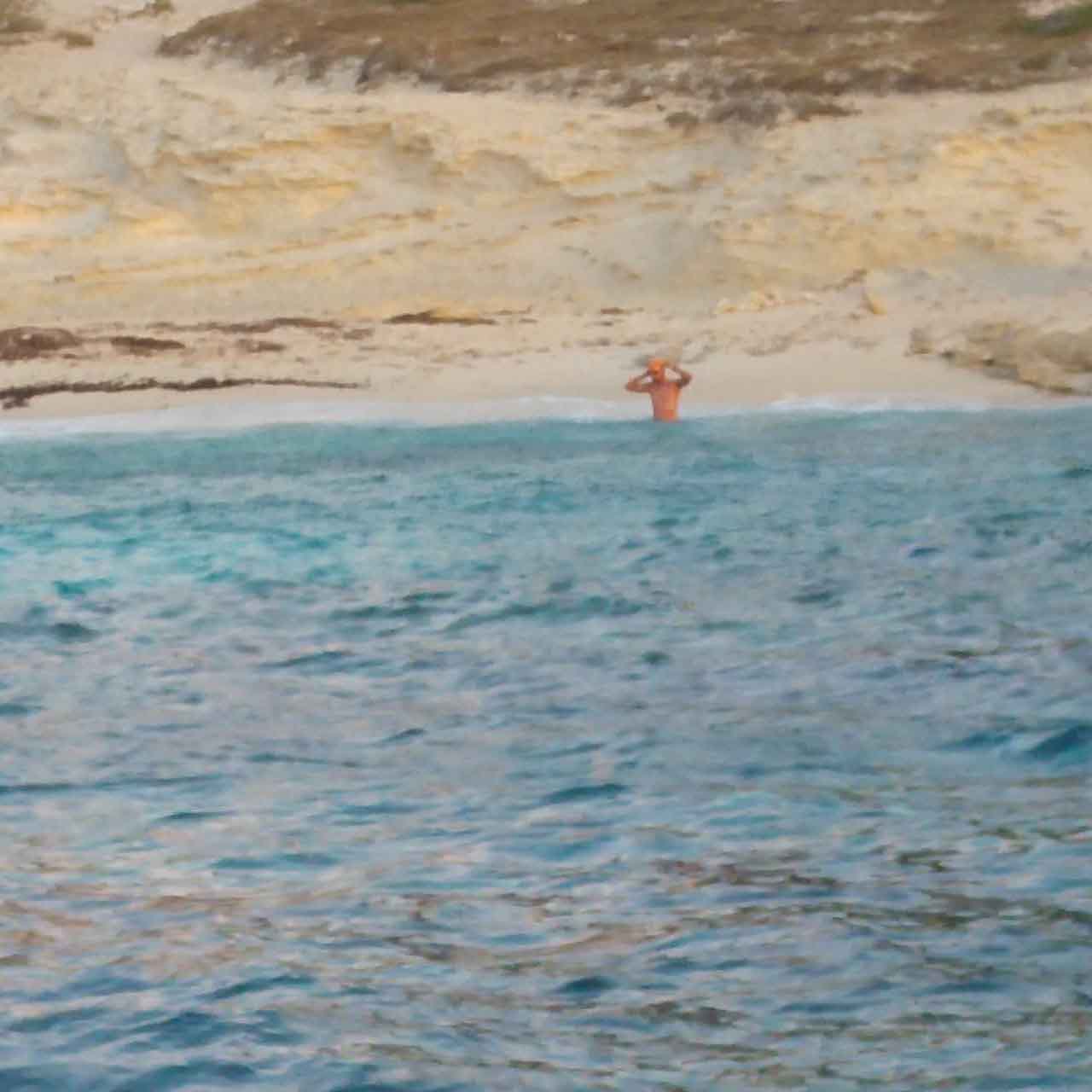 I move a couple of steps on the rocky bottom and, as I go to let myself go to the first swimming strokes, I make a cut on a toe against an underwater rock. Nice way to start! The first strokes are usually the least pleasant. The muscles must get used to the effort and my swimming almost always lacks the typical automatisms of bottom swimming. The sun is rising right now, but it's hidden behind the cliff and from here I can't see it. The coasts of Corsica protect me and the wave is still very limited. Within a few minutes swimming becomes easy and pleasant, with a side wave that does not bother me. I try to do some aiming for myself taking into consideration the current, which is lateral from the west. Since my destination is
Porto Quadro decided to go further to the right, towards Capo Testa. In this way the current, which moves me further east, should make me swim exactly in the desired direction. Unfortunately it is not very easy to keep the chosen direction because, being in the water, it is not always possible for me to see the coasts of Sardinia as they are almost always covered by waves, higher than the horizon. I am therefore forced to have to stop from time to time to check and restart. I take advantage of this moment to create a reference with the sun on my left, so as to use it as a fixed point for all the moments when I have no other visual references. As soon as I leave the coast of Corsica the sea begins to become more challenging and the wave rises to about 80 cm. We start dancing, but I'm still at ease. The sun is low and I feel the cold although it is still bearable. The sky is veiled, but less than I feared. It looks like a pretty peaceful day and this is great news; at least the cold will not hinder me more than necessary.
The bottom of the sea slowly changes color, going from black to a very intense blue; the sun is not yet able to illuminate its depths. On the other hand, between one stroke and another, I let myself be distracted by the changing colors of dawn and an hour has passed since I left. It is time to make the first stop to eat and drink. During swimming the body consumes almost 1000 kcal every hour and, if the energy consumed is not replenished, the body will sooner or later let go and you will be left without strength; it is also necessary to replenish lost salts and liquids, otherwise cramps occur. It is therefore good to make several stops spaced about an hour apart. Yesterday I prepared a bag for each of the stages in which I put a bottle of water with maltodextrin, magnesium and potassium, a gel and a boiled potato. These are foods that I chose based on my previous endurance races at Lake Orta and they seemed appropriate also for this crossing.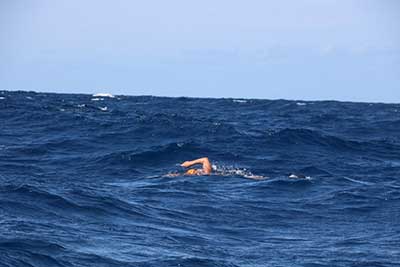 Before leaving I decided to stick to the FINA (Fédération Internationale De Natation) rules for open water swimming, so there is no wet suit and no contact with the boat under any circumstances, not even during refueling. So I decide to stop and so I make the signal to the skipper who follows me by boat fifty meters away. At this moment the wave is about one meter and the boat takes a couple of minutes to approach safely and launch the first bag from which I take the boiled potato. The only variation I made compared to the bags prepared for Lake Orta is that of not salting the potato. Just dip it in the sea, right? Mistaken! I can immerse it as much as I want it to remain insipid. Damn!

Meanwhile the bag with the food, which I am holding with one hand, has filled with water and now weighs ten kilos, which prevents any movement of that arm. The other hand holds the potato I'm eating, so I have to float using only my legs. Until today I have never had the need to do static swimming for so long, in these conditions and with these waves and in a short time I realize that this stop is becoming very tiring instead of being a moment of rest. In reality I had hypothesized a similar possibility thinking that I would have solved the problem by putting myself to death a little, which at this moment is impossible because of the waves that are too high. Furthermore the cold begins to be felt much more than the moments I was swimming. The legs tire in a short time and I feel cramps on both thighs. This is absolutely not good. After only two or three bites I decide to abandon the potato to the abysses and entrust myself to the only small bottles of maltodextrins and gels for the next stages. I emptied the bag from the water, threw it onto the boat and went back to swimming trying to rest from that so painful pause.
It is around 10 am and the sun is finally warming up, despite the sky not perfectly clear. I have already made a second stop which has gone much better than the first, although it remains a cold and tiring moment but, at least, not as terrible as the first time. Right now I should be more than half way, but I'm not sure. Since I left I never turned around to check on where I am and I dare not do it now. If I were further behind my expectations, I am afraid that I might be demoralized and abandon myself to fatigue, so I only look forward. Now I begin to see larger buildings and this is the most significant sign that I'm approaching. Now keeping the right direction is easier.
As I swim, I see a large cargo ship pass a few hundred meters ahead of me. I wonder if he is following the predetermined route or if he has been diverted from the harbor master's office with which we are continually communicating the position. In the meantime the sea has worsened and in some moments the wave reaches the meter and a half of height. Now it's a bit more difficult to "swim along" as I like it because the frequency and width of the waves is not always regular. It sometimes happens that a particularly high wave surprises me during the stretch to the left, unbalancing myself and, for two or three times, I happened to find myself belly up.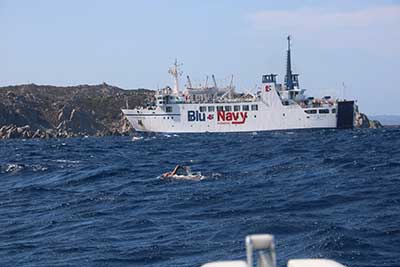 Three miles from the coast, my parents join me on a second motorboat. They came to cheer me on and to be my photojournalist. I'm happy because I didn't get a picture. In the distance I see for the third time the ferry that sails between Santa Teresa di Gallura and Bonifacio and I wonder if any of the passengers have seen me and are wondering who is that crazy that has decided to swim in the open sea in a day like today . The sea continues to change and I finally find myself with the long wave. It comes diagonally from behind and I like swimming a lot because it is enough to synchronize the stroke and enjoy the thrust. Arriving diagonally the help is not very important, but it allows me to swim in a way that I like and that makes me less tired. Unfortunately these conditions do not last long and, still off the coast, I feel that something has changed again. I can not understand what it is. There is no longer the long wave, but I cannot even understand from which direction the waves arrive now. It seems to come from all sides. I ask how much they are missing and they tell me that I am close: only two miles are left . With two accounts I realize that two miles is almost four kilometers, which is not really "so close".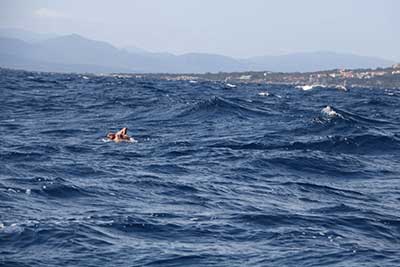 For the first time I turn back, now I can do it. I see Corsica in the distance! I haven't arrived yet, but behind me there is a lot more road than the one in front of me. Last week I read in some newspapers that an orca has been sighted near the island of Capraia, I also know that this stretch of sea is frequented by various cetaceans, dolphins and sharks. During the first part of the crossing I happened to see some shapes under water, but so far I have tried not to check if I was wrong or if I had seen right, because I might not like the answer. But now it is already the third time that I feel something "bite" my toes, not to hurt me, but right now I doubt I am wrong. There's something...

Later I will discover that it is a group of curious seagulls that fly over me and come to peck my toes.
I am now under the coast. I see everything closer and I feel almost there, but I'm very tired and I'm cold. I force myself to continue swimming, but the shore never seems to come closer. I keep asking what direction I should take because with this kind of waves I can't understand where the current is coming from. I am advised to change my final destination. My destination will no longer be Porto Quadro because I would risk getting into the long inlet that ends at the port of Santa Teresa di Gallura. I have to aim a little more to the right. But this means that I will have to swim a little against the current. Less road, but more difficult. I keep checking the GPS clock I have on my wrist to see if I'm moving forward or not, because it seems to me to be still. The clock says I'm wrong, better this way. I'm close and I really don't know which point to choose as a landing, so I choose the central one. I will swim up to the Punta Falcone tower . The waves break on the rocks and I look for a safe point to "touch". The support boat cannot get too close and I don't want the waves to hit the rocks. I see a rock that is a little isolated and half-submerged. Sounds good to me. If a wave too strong arrives, I will simply fall back into the water on the opposite side: no danger. A few strokes again and touch the earth.
I arrived!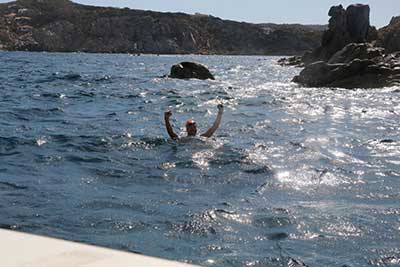 When I chose this goal, more than two years ago, I realized that in those days it was a goal far beyond my possibilities, but I had decided that I would make this crossing and I conquered it with a knife between my teeth.
I turn around and see Corsica down there, far away. Five hours away from swimming.
SWIM DATA
Day: Saturday 2017/09/16
Duration: 5 hours
Departure time: at dawn, at 7:00 AM (Capo Pertusato)
Arrival time: 12:00 AM (Punta Falcone)
Length of the swim section: 15.8 km
Sea quality: waves 0.5 meters (Corsica) up to 1.5 meters (Sardinia)
Water temperature: 23 degrees all the way
Equipment: swimming cap, goggles, swim briefs
Give a look to the GPS track: CLICK HERE
THE VIDEO OF THE CROSSING